Mike Tyson's Training regime before he got an acquired taste for opponents ears of the day
Mike Tyson was the last great boxer according to me.  After he lost to Buster Douglas boxing became dead to me.  I watched a little during the Holyfield and Lennox Lewis days, but it never was the same for me.  Tyson was literally a beast, the guy was lightning fast, and had the power of a 1000 men (I made this up).  For those of you who might be interested here  is a copy of his training schedule.
If you would like a couple of to drills to improve hand speed I suggest you follow this link.
Sexy Boxer of the Day
If my girl friend ever wore this I would not punch her, but she would definitely get a spanking.  Here is a gallery of the top 50 boxing babes according to the people in "Banned in Hollywood" (don't know much about women's boxing so I just taking their word for it).
Boxer Recipe of the Day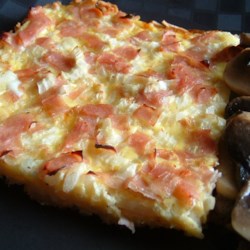 To tell you the truth I could not find any good recipe related to boxing.  All I came up with were recipes for dogs, and some drinks.  The picture above shows a ham and cheese quiche, which you can have for breakfast, or at any other time if you please (if you are a boxer probably nobody is going to argue with you). Livestrong.com has a small article on diets for boxing, which you should read if you have any spare time; doesn't include steroid, I checked (terrible joke, I know).
Inspirational Boxing Video of the day
There will never ever be another boxing movie like Rocky.  I have to admit the last couple of ones sucked, but they mostly rock.  My favorite is Rocky IV. I just love his training in the snow, the music, the fight, the drama, etc.  So here are a few inspirational quotes from Mickey to help you through your day, or even life.
Jump Rope like a Boxer video of the Day
Have to admit Rocky was the reason I decided to learn how to jump rope.  I personally enjoy it a lot.  It's a great for developing quick feet, stamina, and other stuff I can't think of right now.  So here is yours truly with a small tutorial on how to jump rope.
Boxer Dog Video of the Day
I'm just posting this video because I love dogs, and this one reminded my o mine.